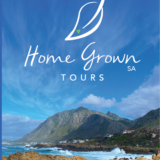 The Home Grown Team is ready to design a day to make your visit to the Overberg region memorable.
Our special focus is to introduce you to our home, where you will find many adventures that ranges from horse trails, various hikes, kelp forest snorkelling and wine tasting trips paired with discovering the culinary delights of our area.
Explore our half day and full day options and please remember that we are open to put together activities and adventures that suits your mood and your curiosity.
Contact details
POSTAL. P.O Box 116 Kleinmond 7140
CELL. +27 (0)79 774 6553
EMAIL. bookings@homegrownsa.co.za
WEBSITE. www.homegrownsa.co.za
Photoalbum