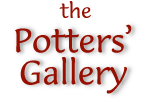 We would like to introduce you to our studio and workshop as part of our celebration of 15 years in the business of making and selling pots in Kleinmond. On 1 July 2006, we have been potting at No. 14 Harbour Road, Kleinmond a full 15 years. Despite this, many people don't have an inkling of what happens behind the scenes. We don't buy in from anywhere else what we sell in our shop! Everything is made in our own workshop "behind" the gallery and restaurant that forms the "front" section of our face to the client.
As part of our birthday celebrations, we offer for the first time organized workshop / studio tours to give people the opportunity to have a look at the processes involved in creating all the pottery on offer in our gallery. When you join one of our workshop tours, you will experience firsthand what clay feels like; be shown through our workshop with explanations of the processes used; be given a demonstration of throwing a piece of clay (or 2) on the potters wheel; shown soft clay decoration, as well as decorating on the glazed item with decorating colours using a set of potters' brushes; observe the forming of large terracotta planters; see the kiln "shed" where the fire part of the elements involved gets applied; and have the opportunity to re-appreciate the range of products in our hop and what it takes to produce this extensive range of generous handmade country ceramics.
The passion that we have for what we do, permeates all of our work. Pots can be use every day to bring art into our lives, enhancing our experience with food, adorning our homes and providing a necessary ritual to nourish our soul and mind as well as our bodies. We try to make pottery that is successful in several ways, comfortable to use, enjoyable to look at, and interesting to think about.
Perhaps pottery's greatest power lies in its association with the human body and with being human. The language of pottery is the language of the body, with necks and feet, bellies and shoulders, and lips to touch our lips. The intimate relationship that develops with use strengthens this association. A personality develops, and the pots become our friends. In this friendship they become reflections of our humanness, and help give meaning to our lives.
Our extensive range of functional ware includes huge platters and tiny bowls, casseroles and more. Classic white is complimented by a large selection of vibrant summer colours and neutrals for mix and match. Traditional terracotta pots and custom made individual pieces are also found at the Potters' Gallery; from small windowsill pots to large fruit tree planters, all in real earth clay.
Contact details
ADDRESS. 14 Harbour Road, Kleinmond 7195
TELEPHONE. +27 (0)28 271 4213
FAX NUMBER. +27 (0)28 271 4213
MOBILE. +27 (0)82 928 1193
EMAIL. gallery@hand-made.co.za
WEBSITE. www.hand-made.co.za
Photoalbum