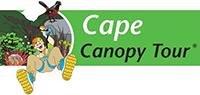 Just an hour from Cape Town, the Cape Canopy Tour is situated in a World Heritage Site within Cape Nature's Hottentots Holland Nature Reserve, located in the scenic Elgin Valley.
The tour consists of eleven thrilling slides, some over 300m long, each ending on a platform constructed on the cliffs and fynbos covered mountain slopes above the Riviersonderend Gorge. A unique suspension bridge between a narrow sandstone ravine high above a spectacular double waterfall is guaranteed to be one of the unforgettable highlights of the tour.
Cape Canopy Tour is a fully guided nature experience with a strong emphasis on client comfort and safety. Two trained guides will accompany each group on the 3½ hour tour. They will provide information about the endemic fynbos and geology of this unique World Heritage Site. Included in the tour is a 4×4 journey through the nature reserve, refreshments on one of the cliff-side platforms as well as a light lunch afterwards.
Cape Canopy Tour is suitable for almost all ages (5 to 75 years is the recommended limit) and will operate in most weather conditions (raingear is provided).
Rates: R595 per person (R40 discount with a Wildcard).
Want to see us in Action? View this YouTube video clip.
Contact details
ADDRESS. Hottentots Holland Nature Reserve, R321, Elgin, South Africa
S34 04.467 E19 03.724
TELEPHONE. +27 (0)21 3000 501
EMAIL. info@capecanopytour.co.za
WEBSITE. www.capecanopytour.co.za
FACEBOOK. Join us on Facebook
Photoalbum