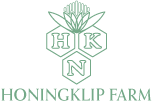 Honingklip Farm has been in Middelmann hands since 1947. The farm, then called a "useless piece of mountain side" was bought as a weekend retreat, but Ruth Middelmann, a keen amateur botanist, saw the potential to develop proteas and other wild flowers into a commercial venture. Over time she built up a plant nursery that supplied plants all over South Africa and beyond, in addition to selling proteas and greens to florists in Cape Town. In time she developed a seed business and seeds from Honingklip are parents of many proteaceae plants in botanical gardens and commercial ventures around the world. The main focus of the current generation is the drying of proteaceae and other decorative materials, which are exported all over the world. Continual development to enhance these dried products has lead to many new and innovative products and processes – we take pride in considering ourselves leaders in this respect. The family has always played a leading role in the industry, with conservation issues high on the agenda for sustainable development. In the year 2000 the Middelmann family decided to give something back to nature and registered an Open Space Private Reserve, called Ruwami in honour of our founders Ruth and Walter Middelmann. Cape Nature borders our reserve on both sides thereby forming a continuous reserve. Our 450 ha reserve is situated on the edge of the Kogelberg Biosphere reserve on the road between Botrivier and Hermanus and a stone's throw away from Arabella. We would like to share our Fynbos with those who are not as fortunate as us to live on this magnificent piece of land and we invite hiking groups, and mountain bikers to visit our reserve for spectacular fynbos and amazing views. You might even be lucky and spot our Reebok and other wildlife.
A small fee is levied and is earmarked for our on-going alien eradication program.
Quad bike tours have been outsourced to Top Quads Scenic Tours.
A tour of our dry flower operation can be arranged at a small additional charge.
We invite Nature Conservation, botanists and students in these fields to apply to use our reserve and farm as a study site.
Contact details
ADDRESS. Honingklip Farm, R43 Hermanus Road, Bot Rivier 7185
TELEPHONE. +27 (0)83 601 2523 or +27 (0)71 136 5307
FAX NUMBER. +27 (0)28 284 9777
EMAIL. richard@honingklip.com or phil@honingklip.com
WEBSITE. www.honingklip.com
Photoalbum