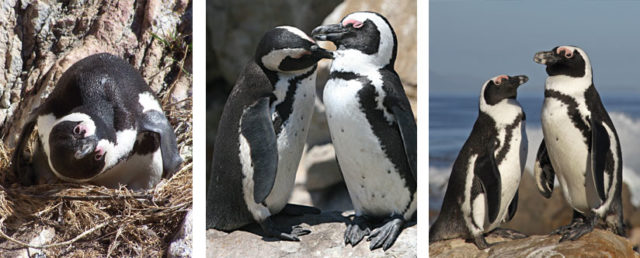 Stony Point Nature Reserve is home to one of the largest breeding colonies of African Penguins in the world and can be found on the border of the coastal village of Betty's Bay in the Cape Overberg, 90 kilometres from Cape Town. The penguins of Betty's Bay are one of three land-based colonies in South Africa. These Jackass Penguins, as African Penguins are commonly known because of the donkey-like sound they make, are listed as vulnerable with number decreasing rapidly over the past few years due to oil spills, predatory Cape Fur Seals and overfishing of the surrounding waters.
The colony started in 1982 with the arrival of a breeding pair of penguins, presumably from near Dyer Island, and by 1986 had grown to about 40 nests. Visitors are often greeted at the car park by a wandering penguin and these birds can be observed in close proximity from the shore.
Stony Point offers the public the chance to see these flightless birds up close. CapeNature manages the reserve and controls the entrance to a boardwalk that meanders between the penguins. This is open from 8:00 to 16:30 and allows the public a chance to observe the penguins go about their daily activities in their natural habitat, without disturbing or disrupting them. Penguins can be seen daily but the best viewing is early morning and early evening, especially between April and June.
A visit to Stony Point is a highly enjoyable activity for all ages and will certainly give families something to experience on the weekend or in school holidays. On The Edge is a community run restaurant at the entrance to the reserve and next to CapeNature's offices where coffee, tea and meals are served. Stony Point is open from 08:00 – 16:30 (last permits issued at 16:00, gates close at 16:30 sharp). Visitors can also take a coastal walk and taste the handmade Gaboli chocolates of Gaspard Bussot within a 2 kilometres from Stony Point.
CapeNature Reserve office phone number: +27 (0) 28 272 9829
Emergency number: +27 (0) 87 288 0499
Cellphone reception: Yes
GPS: 34 37 14.21 S, 18 89 32.65 E
Accessibility: Walking stick & wheelchair friendly